The Company
Who we are
"Gualdi Alessio Trasporti e Spedizioni Srl" was founded in 1950 by the brothers Alessio and Battista Gualdi; continue with the ownership of Gualdi Alessio and his daughter Edvige, and by help of their employees and collaborators too, build the current company, a synthesis of tradition and innovation.
Gualdi Alessio Srl has a fleet with 49 Tractors, 12 Tipping Tanks 60 m³, 36 Tipper Trailers from 28 to 60 m³ and 11 Trailers with Walking Floor. It's specialized in trasport service of dangerous wastes and goods and in storage, processing and trasport of bulck materials.
The Head Office,a 24.000 mq area, with offices and 2.000 mq garage,is located in Boltiere (Bergamo), via Brembate snc, next to Capriate exit of Autostrada Milano – Venezia
We have ISO 9001 and ISO 14001 Certification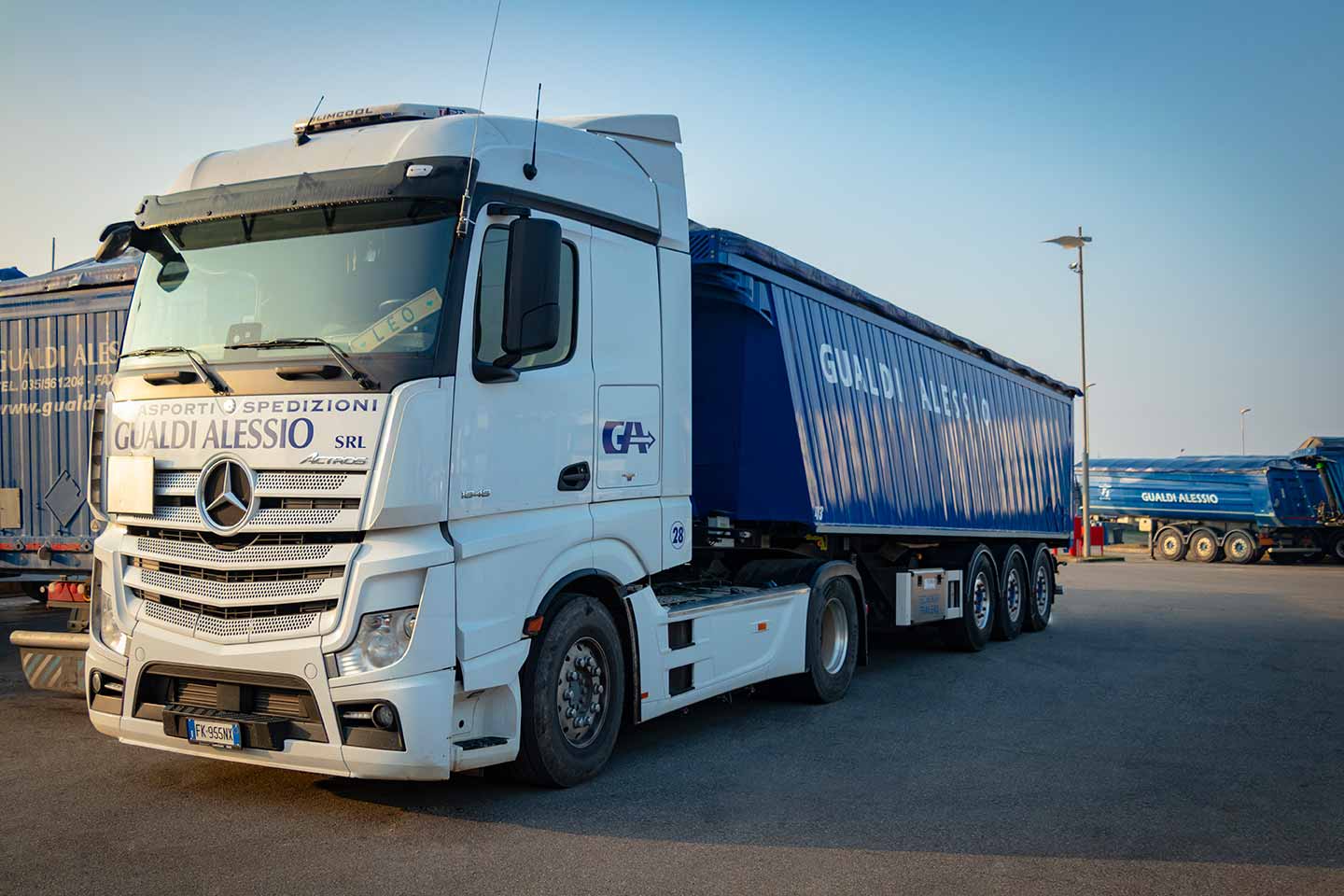 Gualdi Alessio trasporti e spedizioni has an own Custom Warehouse located in Pozzolo Formigaro (Alessandria).It's a 30.000 mq area where are stored and processed lot of ferroalloys income from the port of Genoa, Savona and La Spezia and afterwads delivered in steel meels in north and center part of Italy, or in other European destination.
Gualdi Alessio trasporti e spedizioni S.r.l. performs its activities in order of wastes and hazardous materials transports legislation and agrees about "organization and management form ex D.Lgs 231/2001", with its ethical code too.
Special careful about environment, "Gualdi Alessio Srl" has been certified UNI EN ISO 9001 and UNI EN ISO 14001. The company has further installed 86 KW of photovoltaic panel that make it self-sufficient about electric energy.
Transport skills is in Gualdi family D.N.A. since 1950
Transports in D.N.A since 1950
Transport skills is in Gualdi family D.N.A. since 1950, when three brothers, Alessio Luigi e Battista, ran a little familiar company working in transport services.
Now, the company has the name "Gualdi Alessio", a Battista's son. He started from the family tradition and a little transport company too, thanks to his own business choises, develops his company up to make it the point of reference for the world of waste transport. Since 1990, Mr Alessio Gualdi, both with his daughter Edvige, decided to invest in waste transport making "Gualdi Alessio Trasporti e Spedizioni" one of the firsts company with a Licence for waste transport.
During year 2000, Gualdi Alessio Srl, bought a warehouse in Pozzolo Formigaro, in the west part of Italy, to respond about the new business request, developing quality and services for its customers. Indeed, both with transport, it can offer storage and processing of bulk and package goods, such opening big bags, screening and crushing ferroalloys.
Since 2002 Gualdi Alessio Srl, thanks to its high quality about services and environmental management system, has been certificated UNI EN ISO 9001 and UNI EN ISO 14001.
Since 2010, following the enlargement of its truck fleet, the company built a new Headquarter in Boltiere (Bergamo) near the "Capriate" motorway exit. There are offices and 24.000 open area to parking trucks and trailer.
Gualdi Alessio Srl Trasporti e Spedizioni, during its history,  showed its attention about ecology and environment. Beyond a continuous update of its fleet,  with only EURO 6 trucks, has been installed photovoltaic system plant able to generate more power than needs. Not enough satisfied, we also bought a washing plant for our trucks with an ecological purifier, that recycle 100% of washing water and absolutely respect the environment.
The respect of laws about corruption and crime prevention are so much important for us. Indeed, since 2018, we have agreed to a governance system that responds at law decree 231/2001. Road traced from our founder Alessio, and now followed from his daughter Edvige, is clear: only looking at the future investing on new business, ecological equipment and smart people we will be able to respond at our customers requests.
This is our history, this is our mission!
Most important stages of our history
1950
Gualdi Battista and his brother Alessio began transport activity
1990
Waste transport became our business
Development about waste transport
1997
UNI EN 9001 Certification
First important certification for our Company
2000
Warehouse in Pozzolo Formigaro (AL)
Open new Warehouse for storage ferroalloys
2002
UNI EN 14001 Certification
A new important Environmental Certification
2010
In Boltiere (BG), a low environmental impact headquarters
2018
Agree about D.LGS 231/2001
A new governance system to prevent corruption and crime